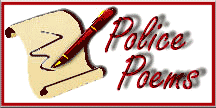 Please feel FREE to use the banner to the left for linking back here!
About "PolicePoems.com" ~ Copyright © 1997-2015

Like to submit your Poem? (Click SUBMIT)!
Click HERE to go directly to Poems Menu!

The site was last Updated with Poems on Tuesday, February 10, 2015
---
In Memoriam to and Special Recognition of Peace Officers around the World
What started out to be a (one) page entitled "A Couple of Cop Poems" in 1997, has turned into the internet's largest Police Poems site called "PolicePoems.com" Further, you can now use a search engine to find just the right poem!

Special thanks to the Authors of the poetry and prose on this site. Their talents are a compilation of "very real & meaningful poems." Some will bring to memory those who made the "Ultimate Sacrifice" for us, some will bring you to tears, some will keep you safe on the front lines, but ALL will touch the inner depths of your heart.

IF you are a family member, a partner, a loved one, or friend, then I pray that the right poem(s) will help to bring some relief and closure to the ever continuing loss that you are going through. It is a "void" that never can be filled. For additional support you may wish to go to "Your Closest Back-Up"

IF you are a member of the General Public, then I pray that these poems will bring a greater understanding of just who it is that we are, what it is that we do and a proper respect of those who "Protect & Serve."

Thanks also for the many letters from those who have been touched deeply through this site - YOU are the reason and inspiration!


Visitors since June 28, 1998 can't be wrong!

Those poems with a have music (midis) with them. Music adds another dimension to the written script, so IF you don't have the FREE Crescendo Midi Player make sure you download it! This background music is usually at the choice of the submitter of the poem.
Meet book, poetry and prose
authors, members of the Law
Enforcement Community
and other supporters.

---

Chat and Share!
---
Presently, there are 364 poems and prose linked!

(Search by Name of Author, Department, Need, Poem, or Keywords)
You can also find the poem below and click on it
Last Updated on Tuesday, February 10, 2015
---

10-7 10-42 St. Lucie 267
Goodbye boys in blue
Red and Blues
A Blue Day
Grandpa
Reflections of Police Week
A Colorado Troopers Prayer
Guardian Angel
Remembering Me
A Cop on the Take
Harold Taylor
Remembering My Friend
A Cop's Christmas Prayer
Have You?
Revenge Served Cold
A Cop's Sixth Sense
He Answered The Call
Running Guard
A Cop's Thanksgiving Prayer
He's Always There
September 11, 2001 (WTC)
A Correction Officer's Prayer
Heaven Called Some of (WTC)
Shattered (DUI)
A Cowardly Attack (WTC)
Heaven Called It's Hero's Home
Shoot Out
A Day of a Police Officer (MP)
Heaven Needed a Deputy
Shrouded Badges
A Dying Declaration
Heaven's Beat (Parents)
Side By Side (WTC)
A Final 10-42
Heroes
Signal 13
A Girlfriend of a Cop
Highway Patrol Officer's Prayer
Silver Star on His Chest
A Good & Wonderful Man...
His Final 10-42 (Spouse)
Since I Was Eight
A Hallowed Prayer (Spouse)
Holding The Line
St. Michael Protect Us ...
A Hero Is
Hope for N.Y.C. (WTC)
State Policemen (WVSP)
A Kiss Goodbye
I Am An Explorer (Explorer)
Some Still Call Him Pig (WTC)
A Letter to Heaven (Spouse)
I Am Testing the . . .
Tears (WTC)
A Mother, A Wife, A Cop
I am the Officer
Tears of a Cop
A Mother's Prayer
I am the Trooper
Tell Them I'm Sorry
A Part of America Died
I am Remembered
Thank You
A Patrolman's Departure
I can I am
Thank You, Officer
A Police Officer
I Pray
Thankless Job
A Police Officer's Daughter
I Never Got a Chance . . .
The American Policeman
A Police Officer's Prayer
I Want To Tell You Lies
The Badge
A Police Officer's Prayer
I Watch Him (Spouse)
The Badge Shines Bright
A Police Officer's Wife (Spouse)
I Will Come Home To You
The Boy
A Police Officer's Wife
I Wish (OSP) - (Parents)
The Brave Men In Green (Explorer)
A Policeman's Prayer
If I Could Make The Perfect Cop
The Brave One Hundred
A Policeman Was Killed Last Night
If Only He Knew (Kids)
The Brown Shirt
A Policewoman's Prayer
I'm just a man
The Cadet's Ride Along (Cadet)
A Returning Moment
In Love With A Police Officer
The Call (SCHP) (Dispatcher)
A River Wide and Deep (WSP)
In the Heart of Every Cop
The Call
A Routine Stop (Dispatcher)
In The Line Of Duty
The Cement
A September Mourn (WTC)
In the Simple Performance of Duty
The Christian Cop
A Shield Against The Night
In Your Memory
The Constable (ASP)
A Single Shot
It Could Have Been Me
The Corridor Of Men (DOC)
A Tear
It Is Over
The Creation of Peace Officers
A Tear Fell (WTC)
J.C.'s Sendoff
The Eyes of a Man
A Tribute
Just A Cop
The Fallen Heroes of NYC (WTC)
A Tribute to A Cop's Wife (Spouse)
Just A Dispatcher (Dispatcher)
The Final Inspection
A Trooper (WVSP)
Just a Dog (K-9)
The Final Sound
A Trooper I Knew (MSP)
Just Another Man
The Hero in the Night
Alive Asleep
Just One Person
The Job I Do
Alone But Not Alone
Kate (DUI-A Mother's Torn Heart)
The Journey
Always On The Job
Last Say (WTC)
The Knight
America's Most Strongest
Law Enforcement
The Last Shift (OSP)
An LEO Funeral
Love for the Job
The Law Man
An Officer's Belief
Loving A Policeman
The Lawman and the Lord
An Officer's Grace
Lockerbie Dreams
The Life of a Police Officer
An Officer's Poem
Loving a Police Officer (Spouse)
The Litigation Team (HN)
Angels Unaware
Making Up For The Past (Dad)
The Loss of a Blue Ribbon (ISP)
Angels By Your Side
Mark Fisher 'o Broken Hill
The Man Behind The Star
Angel In Blue
May It Never Be Forgotten
The Message (Christmas)
Angels in Blue
Me Minus You
The Modern Knight
Anonymous Voices (Dispatcher)
Missouri State Trooper (MSHP)
The Monument
Another Night of Crime
Motor Officers (Author Found!)
The National Medal
Another One Fell
Mounted Patrol
The One True Companion
Aron's Paradise (K-9)
My Angel In Blue
The Ones I Leave Behind
As Others' Sleep (WTC-Pending Healing Time)
My Angel, My Mother (WTC)
The Passing
Behind the Badge of Reality
My Beat
The Parting Glass
Bethany 229
My Brother
The Path I Have Chosen
Beyond A Christmas Day
My Brother Rusty
The Perfect Ending (Spouse)
Beyond the Call of Duty
My Dad
The Policemen
Blood Upon the Shield
My Dad The Cop
The Price
Blue Angel Crying
My Darling Dear
The Promise
Blue Berets (AP)
My Father
The Protector In Blue
Blue Warrior
My Friend (Scuba)
The Real Life Nightmare
Bottomless Cup of Coffee
My Friends In Blue
The Risk
Brothers
My Hero
The Sacred Place
Brothers
My Hero
The Sarge
Called to give my all (K-9)
My Husband, My Life ...
The Season
Chicago's Angel
My Man In Blue
The Shield
Christmas Patrol
My Mom The Cop
The Shield
Christmas Pursuit
My Policewoman
The Thin Blue Line
Confessions of a Police Officer
My Police Officer, My Everything
The Thin Blue Line (Dispatcher)
Coppers Strain
My Prayer For My ...
The Thin Blue Line
Cop
My Special Friends
The Thin Blue Line (for Eric)
COPS
My Stone Father
The Thirty-Seven (WTC)
Copswives (Spouse)
My Thoughts
The Trooper's Riddle (WSP)
Could You Be That Brave?
My Trooper (CSP)
The Wilcannia Lockup Keeper
County Jail
Nero Our Hero
The Working Dog (K-9)
Cursed Cop
Next Time
These Things I See (Cadet)
Cycle Of An Officer
Never Go To Bed Mad (Spouse)
They Can't Say
Dad
Nick's Wings
They Gave Their All
Daddy's Badge
Night Walkers
Three Officers
Dare Me
No Guarantees
Those Who Serve
Dear God, I miss my Daddy
No Regrets
Through My Window, . . . (Spouse)
Death of an Innocent
Not Just A Cop
Timing
Deputy Down (Cadet)
Not Just A Policeman
To Serve and Protect
Deputy's Star
Nothing Better (coming)
To Serve and Protect (WTC)
Deputy To Friend
November Night
To Yourself Be True
Do Not Judge
November Tears
Today (DUI)
Do You Know Me? (Dispatcher)
Ode To An Officer In Training
Toughest Job
Don't Be Blinded By My Badge
Oh My Love ... (WTC)
Tribute ... (WTC)
Don't Give Up
One Day in a Cops Life
Trooper
Does He Know ... (Spouse)
One Officer Less
Two Young Lives (OCP/OHP)
Does She Know (Spouse)
Officer Down
Unsung Heroes
Dreams of my Father
Officer
United We Stand (WTC)
Dressed In Blue
Officer Safety
Waiting in the Dark
Dressed In Blue
Only Talk (HN)
Watch Out for him Lord (Spouse)
Everybody Hurts
Our Boss
We
Fallen Hero
Our Dad, Our Hero
We Are Not Heroes (WTC)
Fallen Knight
Our Daddy
We Expect Them To Be
Fallen Officer Desmond Casey
Our Dark Night
We Remember the Officers
Family
Our Dispatchers (VSP)
Welcome Son
Family Notification - ... Death
Our Fallen Brother
When A Cop Sleeps
Fast Asleep (WTC)
Our Heroes
What's a Policeman
Father To Son
Out of Site, Out of Mind
What It Is To Be A Cop
First Cry
Overheard (WTC)
Who loves the Warrior?
Final Call
Partners
Wife's Goodnight Prayer (Spouse)
For Fallen Officer Ronald W. Feldner
Penance
Whispered Tears
For My Husband (Spouse)
Police
Who Am I? (Death Notification)
Forever In Our Hearts (WTC)
Police
Why A Deputy
Freedom Never Dies (WTC)
Police Man's Pride
Why Do I Bother?
Friends in Blue (Dispatcher)
Police Officers
Wings
From Your Little Girl (Parents)
Police Sacrifice
Yes Me the Lousy Cop
Give Him a Guardian Angel
Police Week
You Don't Know How it Feels
God's First Police Officer
Policeman
You Go, We Go (Coming)
God's Own Heroes (WTC)
Policeman
You Missed (WTC)
Goin' Home (PSP)
Policeman's Prayer
You're a Policeman
Pray for the Men in Blue

---
---
GENERALLY - I need at least the "REQUIRED" items below completed. Submissions should be Police Poems about all kinds of Law Enforcement. I may accept some poems that are a little more "broader" IF they of the type that lift up, give support, help in the time of hurt and can be easily understood to be doing just that.
IF you would like to have your poem or prose posted here, please e-mail me with your particulars for inclusion at the address below. I use a standard Copyright © Disclaimer for your protection. While not ALL information is NOT "Required" it does help me to present your work in the most appropriately way, with the feeling and effect you desire. Items that are not required may be left up to my discretion.
TIME - Working full-time now for the U.S. Marshal Service (CSO), maintaining a Motor Vehicle Collision Reconstruction business, amongst other life that I am FULL-filling may require a bit of time to get your poem up, but it WILL be done! There are times when I get behind, so bear with me Brothers and Sisters.
What I'll do is put the name of the poem in the index above along with a "Coming" notation and a . When you see it hyperlinked and a

, it's up and running! (I'll take the time to send you an e-mail to let you know.) Here is what I need:
Your Name - (you can still write under a different name below)

Name of Poem and Author? - (again you may use the name you write under)

Date Written? - (the year or as close as you can get in that this will be used for Copyright © information.)

Credits? - (Name, e-mail and/or URL address - this will be used for people to contact you for permission to use your poem and to connect to those you are honoring.)

E-Mail Address? - be sure to give me an address I can reply to. IF you have AOL or a similar Internet Provider, be sure to set your preferences for me to be able to e-mail you back! I've had a few where I got rejected from replying.

Send the Poem by e-mail or direct me to a Internet Site. You may use the following formats: E-mail (Plain text, .rft and HTML), MS Word (*.doc), WordPerfect (*.wpd), Lotus AmiPro (*.sam), Lotus WordPro (*.lwp), Rich Formatted Text (*.rft) and anything from MS Notepad or WordPad.

IMPORTANT - PLEASE keep me informed of any changes in your site location and/or E-mail address? I'll need the names of your poems you have posted here, so that I can find them easier.
For Submissions click HERE or use the following e-mail address and submission subject line:
Submissions@PolicePoems.com - Subject: RE: Police Poetry or Prose Submission
RECOMMENDED (to personalize)
Background Graphic or color scheme to personalize the presentation of your talent? (Departmental Colors, Emblems, Badges, background, etc.) - But, not required - It's your poem OR we can communicate via e-mail, ICQ, AOL, Yahoo or MSN Messengers to decide - I'll always contact you when it's up on the net and ask for your approval. This is why a "receivable" e-mail address is important.

Please do NOT embed your graphics in a document, but send them as an attachment or give me a location to grab them. Embedded graphics may look good in the document, but come out very substandard on the internet.

Dedication or In Memoriam? Do you want this? (To a particular person(s), Department, Division, etc.)

Graphics (Departmental Logo, Patch, etc.)

Music? (midi) - (A particular song that relates to the poem, the person you are writing about, a favorite of that person or the situation. I will try hard to find that song, IF available in the midi format.)
I want YOUR Poem to be right for YOU, so don't be afraid to request ANY changes. No changes are too big or small for me!
IF you have a poem on your site and like your own style and site, I can link directly to your site if you would prefer? IF you have a Poem Site with "Police Poems" on it I would be love to give a Reciprocal Link to you! (Please use the logo above and/or text link to this page.)
IF one of your poems is here, please e-mail me also so that I may give you the Proper Credits and permissions for inclusion, especially if your name is Anonymous or Unknown!

GOLD STARS with the "Simple Criteria" of the response from numbers of those who read them, appreciation for your work, and especially on how the poem spoke to them in their time of need. Poems dedicated to those who made the "Ultimate Sacrifice" will always receive the "Ultimate Respect" with a Gold Star Designation.
---
Copyright© 1997- 2007 - These poems and prose are the work of the individual writers and may NOT be duplicated, copied in any format without the express permission(s) of said writers and rightful owners. Wherever possible site and e-mail links have been provided for direct contact of said owners for permission.
PolicePoems.com (The entire collection) is my work, style and hard labor. None of these poems have been obtained without permission of a site owner and/or the Author other than those written by "Anonymous" or "Unknown." This site is totally Sponsored by Acrecona® - an Independent Safety Consulting company.
This ever growing collection should NOT be duplicated in any format without my expressed permission!
IF you wish to build your own site or collection, by all means do so, but contact the individual Authors and sites for permission. I have NO monopoly of Police Poems. IF you are looking for poems for your site and are using my site as a source, then AT LEAST give my site the credit it deserves? Put my banner (above) with a hyperlink on your site or a TEXT line with a hyperlink and some kind words about my site and/or work? Should I find a poem from your site or someone refers me, rest assured I will contact you first before posting it here; thus, honoring your work and your site will be hyperlinked at the bottom of the poems as to where it came from.
PLEASE do not Copy (Steal) MY WORK!
Hit your "Back" button or Try one of Acrecona®'s "Top Sites" below:
[ Acrecona® - LEO Links Directory ] [ A Dedication to Peace Officers (Worldwide) ] [ LEO Memorials ]
[ Police Poems ] [ Official Directory of State Patrols & State Police ] [ State Trooper Home Pages ]
[ Vermont State Police ] [ Veterans' Links and Memorials ] [ Web Rings ]
E-mail me to have your site added

or Top